samedi 14 novembre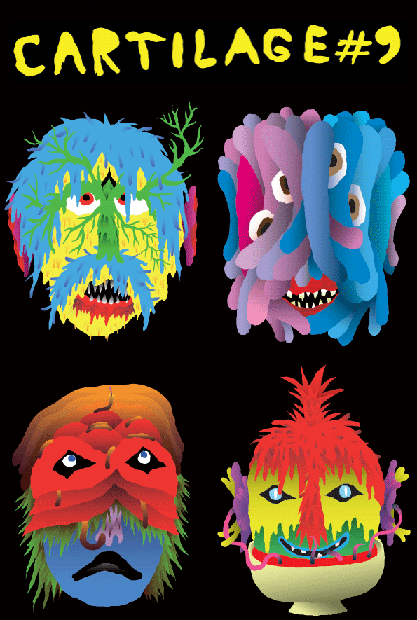 CARTILAGE #9
Tema Bizarre Japan Pop
Music
LIVES //
Oorutaichi (Osaka, jp)
Folklore déviant & banga dance. Quand pop d'Okinawa & Ondo rencontrent l'ultra digital.
"Osaka based Oorutaichi has rubbed shoulders with Kenji Haino and Ruins, collaborated with oddball popsters
Momus and Taku Hannoda, and been producing his solo take on pop since 1999. His latest record his an awesome
exemple of Oorutaichi's high-spirited and outlandish styling,often featuring invented language. There's plenty of
Residents-style weirdness and geeky Aphex Twin-esque mucking about, while his utterly synthetic sound world
seems in direct descent from Yellow Magic Ochestra." (Clive Bell / WIRE Magazine)
http://www.myspace.com/oorutaichi
http://www.okimirecords.com/
Bonjour! aka Mami Chan &Norman Bambi (jp-fr)
Tropicalia mystérieuse et inattendue pour ce nouveau projet des ex Juicy Panic.
Pas d'infos, premier concert mondiale !!
http://www.myspace.com/mamichanfrance
http://www.myspace.com/normannorman
Space Ponch aka Kishino Yuichi (Tokyo, jp)
Exotica fantasque, pop easytronique & vocoder overdose (+ show video SPHYNX)
"Space Ponch est un groupe japonais étrange -et ce, même selon les critères japonais. Sorti sur Transonic puis repris
sur Moikai (le label de Jim O'Rourke), Space Ponch (la créature étrange de la pochette, mélange entre Chewbacca, un tronc
d'arbre et un barbapapa) permet donc aux habitants de la galaxie de faire leurs courses au son d'un singulier orchestre électronique,
très influencé par Jean-Jacques Perrey et Gershon Kingsley, Yello Magic Orchestra ou Raymond Scott. On a donc droit à une dose
déraisonnable de Vocoder, de synthés vintage, de bruitages fifties venus (évidemment) d'une planète interdite et de multiples cartoons
hystériques... (Chronicart)
http://www.myspace.com/gamakazz
http://www3.tky.3web.ne.jp/~gamakazz/kishino/

Shabushabu (Kyoto, jp)
Quelque part entre musiques nouvelles,ragga muffin' & J Pop.
"The Kyoto-based artist redefines musical performance by stewing hilarity and drunken beats.
The show is a fun and engaging assault of warped effects, echoes, loops, vocoders, samples, and crazy beats,
to interludes of whistles, water pistols and even action figures, spruced up with the ad hoc and erratic comments
of a musical madman. Shabushabu's soundscape is strictly no-skool !" (Metropolis)
http://www.myspace.com/djshabushabu
DJ Maho Thai Disco (Tokyo, jp)
V.S.
DJ PLAONG aka Gangpol (fr)
Thai turbo beat megamix & trance du monde
A propose de MTD /
"In 2000,Miss Ishikawa travelled alone around golden triangle countries (Laos / Myanmar / Thailand),
seeking for dangerous dance music... In the black market,They sell over 3000 CDs.She was fascinated!!!!!!!
Then she was born as MAHO★THAIDISCO...THAI DISCO is the name and strange, druggout out, chaotic,
rhytmic percussion infested disco with thai vocals on top is the game. Maho*Thaidisco is one of the best dj's in
this genre and a personal favorite of THE BOREDOMS. She'll supply you with the best and hottest tracks in the genre!"
http://oyajinokaminari.blogspot.com/
http://www.myspace.com/djmahothaidisco
http://www.myspace.com/gangpolundmit
////
Samedi 14 Novembre.

Centre Barbara
1 rue Fleury
75018 Paris
Métro : Barbès-Rochechouart

Entrée 5/8€
Plus d'infos:
http://www.myspace.com/cartilagerecords
Artwork: Shoboshobo